The coronavirus pandemic has revealed a new world, one in which the status quo no longer exists. The pandemic has forced us to reconsider almost every aspect of our lives, rich and poor alike. The pandemic poses both a huge challenge and enormous opportunities for achieving the 2030 Agenda and the Sustainable Development Goals (SDGs). The SDGs serve as a guide for humanity. They cover almost every aspect of human and planetary well-being and, if met, will provide a stable and prosperous life for everyone while also ensuring the planet's health.[1]
Uganda has made progress in a variety of areas since the adoption of the Sustainable Development Goals (SDGs), including maternal and sexual reproductive health. Uganda is still grappling with critical aspects of the SDGs. Adolescent and youth SRH is included in SDG 3: Good Health and Well-being, which addresses all major health priorities, including reproductive, maternal, and child health, as well as SDG 5: Gender equality in all aspects of women and girls' lives, which includes (1) ending gender disparities, (2) eliminating violence against women and girls' lives, (3) eliminating early and forced marriage, and (4) ensuring equal participation and opportunities.
Despite positive advances in health services, sexual and reproductive health remains one of the most difficult challenges confronting young people and individuals, the majority of whom lack access to modern contraception, and such cases have increased as a result of COVID -19. The pandemic threatens to derail progress because of its inequitable and catastrophic impact on already marginalized populations in Uganda. Because the virus is so lethal, the government has devoted all of its resources to combating it, leaving many important issues unaddressed, resulting in a massive pushback against gender equality and the overall achievement of sexual reproductive health and rights.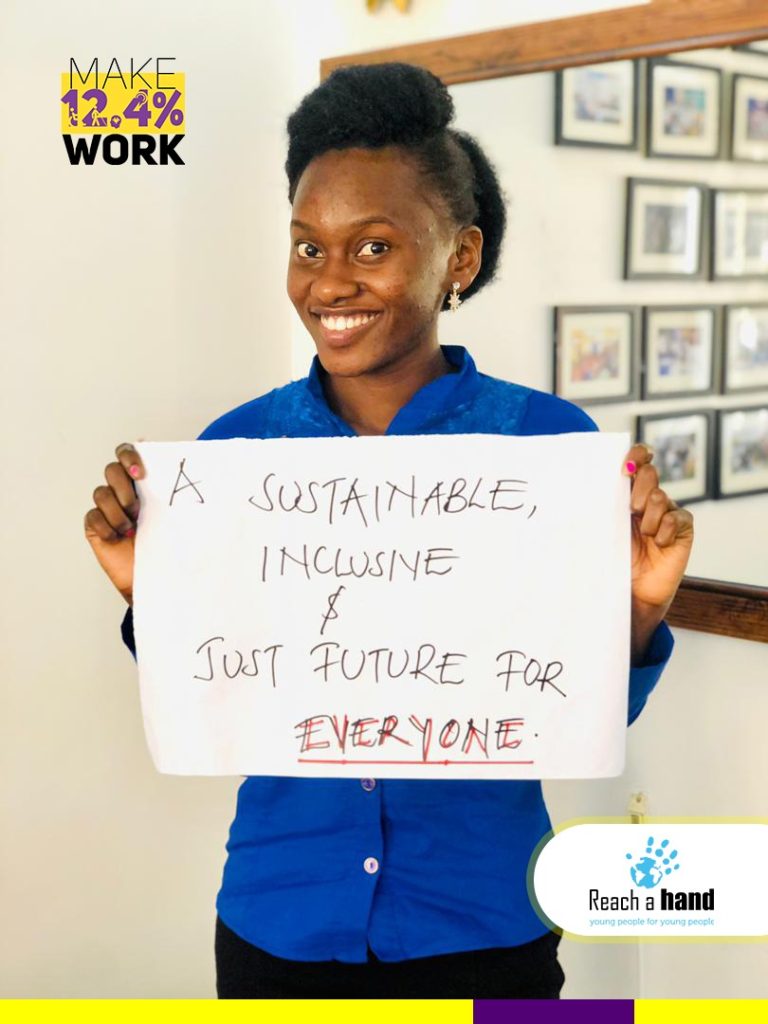 Reach A Hand Uganda, like the rest of the world, has had to deal with the Covid19, an unprecedented threat to humanity. The pandemic's impact on health systems, economies, and the lives, livelihoods, and well-being of all people, particularly adolescents and young people, continues to be devastating. RAHU has a distinct history as one of Uganda's indigenous and youth-founded organizations, having been founded in 2010 by Humphrey Nabimanya, a young peer educator at the time. Over the years, RAHU has expanded its reach, young people's engagement, stakeholder base, and coverage of issues affecting and impacting the lives of young people, such as SRHR, livelihoods, and climate integration, among others.
The pandemic has caused numerous setbacks in the social-economic sector, primarily because people have lost their jobs, young people have been forced out of school where they would be much safer, and due to financial constraints, girls and young women have been forced to trade themselves for basic needs at home. During this time, there has been an increase in teenage pregnancies, child marriages, and the spread of STIs which is detrimental in achieving the SDGs in Uganda.
Reach A Hand Uganda has always relied on interpersonal activities to reach and engage young people, but with covid-19 in place, we needed to find new ways to reach out to young people with SRHR information and services because young people are being left out since all efforts are now geared toward stopping the spread of covid-19. Some of the interventions we developed as RAHU have focused primarily on digital solutions because they have the potential to address some of the major barriers that adolescents in our country face when seeking SRHR information and services, and evidence indicates that young people are responsive and enthusiastic about digital health solutions. We have utilised our own digital platforms, such as SAUTIAPP, which allows young people to receive timely advice, information, and services from the comfort of their own homes.
For young people who do not have access to the internet or smart phones, we created a USSD code (*284*15#) that they can use to access SRHR information by just dailing the code using any phone if they have access to a phone. With our different partners, radio talk shows have been done in various districts while following the SOPs and this has helped with extending information and services to young people such as HIV testing and counselling, family planning services, covid-19 vaccination, and so on. These interventions have aided in contributing to the attainment of SDGs by acknowledging the needs of young people in the midst of covid-19. Throughout this process, we have been able to engage a variety of stakeholders, including the media. Canary Mugume (a journalist) produced an investigative story (sex for pads) that raised awareness about how adolescents and young women engage in transactional sex in order to obtain basic necessities such as pads. This report generated a lot of attention, which prompted partners, stakeholders including school bodies and members of parliament to distribute pads to young people in different parts of the country.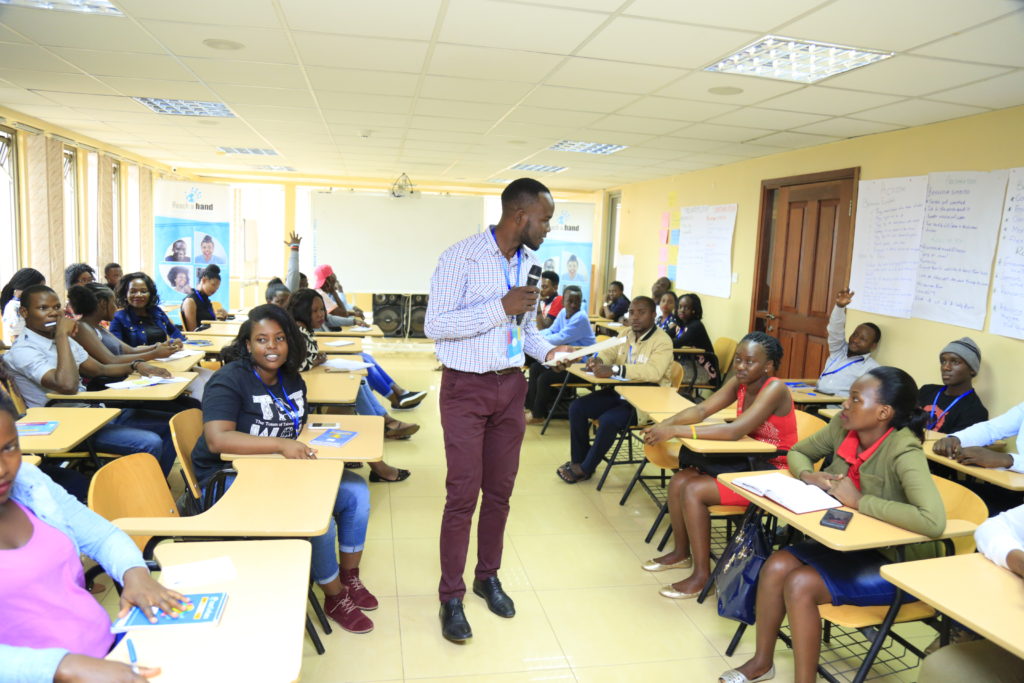 We have also used various social media platforms to provide edutainment for young people and hold discussions about issues affecting them in order to find long-term solutions. We utilised online platforms like Zoom by hosting various webinars in order to find solutions and new approaches to the challenges that young people face, which have been exacerbated by Covid-19. After the lockdown was lifted, we were able to carry out some community outreaches while adhering to covid-19 SOPs, such as the COVID response campaign, mental health camps under the ULCA coalition in collaboration with ACODEV, Reproductive Health Uganda, The Bwongo Consults, and Awesome Mind Speaks, to increase access to and utilization of sexual reproductive health and rights, and mental health information and services among Rubaga Division refugees, people with disabilities, people living with HIV, and adolescents.
Reach A Hand has been active since the beginning of the COVID19 pandemic. RAHU has held youth days in various parts of the country with the help of peer educators. With the closure of schools, many young people were exposed to a slew of challenges, including teenage pregnancies, early marriages, corporal punishment, child labor, and a slew of others. It is well known that predators exist within our communities, and this pandemic aided them in carrying out their evil acts. Many young people became victims of sexual violence due to a lack of accurate information about their SRHR, rather than ignorance. Youth days create a space where our peer educators countrywide can deliver SRHR information and strengthen access to health services through referrals made at the health facilities where these youth days are hosted. During these youth days, our peer educators share SRHR information with their peers through table discussions and various learning games such as the Twogere toolkit. In these gatherings, we also provide family planning services and information.
Reach A Hand and its partners launched the Mask Up Wrap UP Campaign to raise awareness about the on-going Covid19 while also providing information on various aspects of health such as mental health, sexual reproductive health and rights, and no communicable diseases. We distributed food, survival kits, sanitary towels, and hand washing facilities, as well as health information, to various areas of Ggaba, Kitaranga, and Katuso Slums, among others. We also used the campaign to remind people about the importance of maintaining total body health. While following COVID19 SOPs, our peer educators also moved through various communities, disseminating health information and providing COVID19 Personal Protective Equipment (PPEs) to people through door-to-door mobilization in some vulnerable areas of the Kampala district. We believe that this activity made a significant contribution to the achievement of Sustainable Development Goal 5, which translates to good health and well-being for all.
As Reach A Hand Since all of our efforts are geared toward creating a favourable environment for young people to make informed choices, we have projects running such as the Ikon pitch campaign, which aims to provide seed funding worth $5000, mentorship, and business skills for young people to be able to make their business ideas come to life and encourage them economically, given that the pandemic has challenged everyone in the country's economic status. We also have the peer educator's academy which is currently ongoing and this happens every January of the new year. It is an eight-month program designed to provide young people with educators' knowledge and skills on Sexual Reproductive Health (SRHR) and Rights, as well as the necessary life skills to make informed life choices.
As an organization, we have been leading the conversation about achieving the SDGs, but it often feels like a one-man army because there has not been a concerted effort to achieve the SDGs from various stakeholders (government, other civil society organizations), and yet the need for achieving these SDGs continues to grow, as evidenced by the pandemic, because women and young people are vulnerable and have continuously been marginalized.
[1] https://feature.undp.org/covid-19-and-the-sdgs/