"Give us the opportunity, we shall exercise the ability". Said Peter Ogik founder and Chairperson of Source of the Nile Union of Persons with Albinism (SNUPA). He added that "We want to see a society where we don't focus on disabilities but rather one's ability. The public is focusing on the one disability and neglects the 99 abilities we have. We are not here to ask for pity, we are asking for a chance to show our abilities".
On  21st of April 2021, we launched the Sauti Canvas contest, under the theme "Focus on abilities". The contest is part of our ongoing interventions in creating an inclusive society. As an organisation that focuses on transforming and empowering young people, we hold the value of not living a single life behind regardless of their background, skin colour and tribe.
A number of projects and programmes on young people's livelihoods have been established but a need arose  to create a platform that provides a chance for the young talents that are interested in the performing arts to showcase their talents hence the Sauti Canvas Launch.
Wondering what the SAUTI Canvas Project is?
The SAUTI Canvas is a project by Reach a Hand Uganda that is anchored on the 4 pillars of empowerment, inclusion, meaningful youth participation and talent. It focuses On empowering different categories of young people in the society. It is also promoting  talents while using music as an art to influence positive behavioural change. The Sauti Canvas is a blend of talent, sexual and reproductive health, youth livelihood and economic empowerment. The first edition of the Canvas is focusing on young people with disabilities under the theme "focus on abilities".
"We want to use the SAUTI Canvas to groom the next big performing artists in this country. A representation of what the future will look like.This is a deliberate effort to make sure all young people are deliberately targeted". Said Frances Aanyu President Youth Engagement Reach a Hand Uganda.
While at the launch of the Sauti Canvas project, speakers and panelists highlighted the need for empowering and providing equal opportunities and platforms for differently abled young people.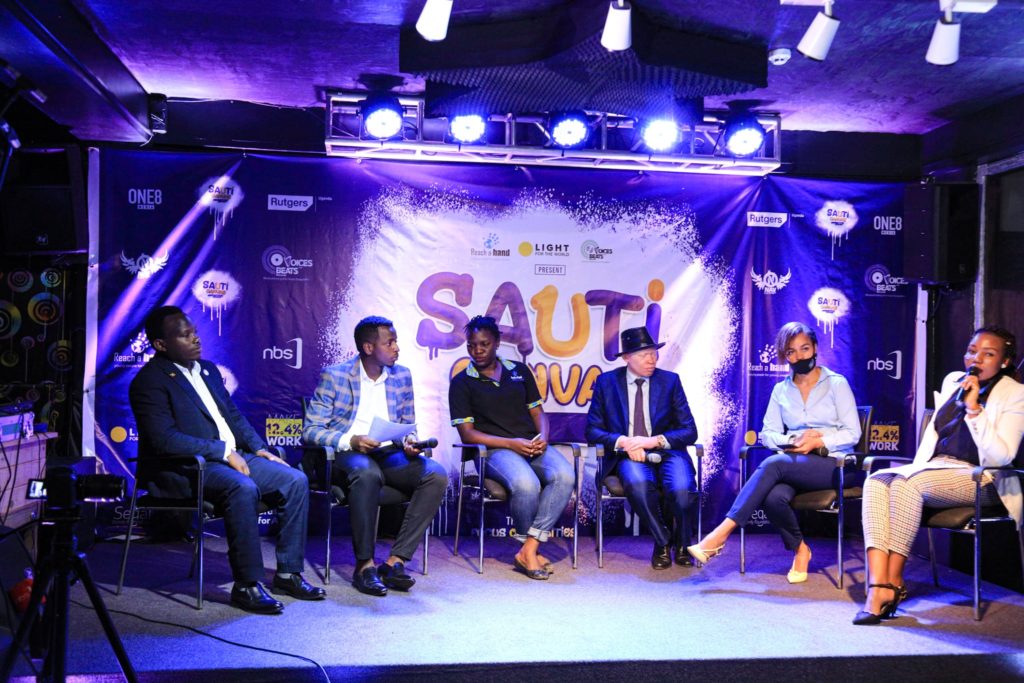 Our panel comprised representatives from the different partners we are working with on the contest. While speaking, they made it known that their partnership with RAHU on this project will enable them promote inclusiveness in the communityThey also emphasized that one  way to sustain such projects is by maintaining the aspect of inclusion.
While giving his opening remarks, the CEO and Founder of Reach a Hand Uganda, Humphrey Nabimanya clearly noted that,
"The mandate of the Sauti Canvas is to ensure that all young people have access to opportunities; opportunities to explore their talents and harness their full potential."
With the contest, we are planning to show the world that differently abled young people are  capable, talented and can make a remarkable difference in society, and that all they need is a platform to showcase and exercise their abilities.
"We need to focus on abilities just like the theme of the Sauti Canvas.We need to clarify and capitalize on that. We need to use this opportunity to show our abilities as PWDs to the community."Ambrose Murangira manager disability inclusion and advisory unit Light for the world highlighted this at the launch
The Sauti Canvas contest is officially running and  for  young talents to take part, they will need to apply. Application is by sending a 60 seconds video in any of the three categories; Hip Hop, instrumental and dance to our WhatsApp number 041 4697037. Applications will close on the 12th of May 2021 after which the selected few will audition in front of our well selected panel.
At the end of the competition in June, we shall have a winner
The 2021 Sauti Canvas is supported by Light for the World, Segal Family Foundation, Rutgers, Voices and Beats Records, NBS, Brass for Africa, One 8 Media and Navcorp,
To get more all updates on the contest, follow #SautiCanvasUG #WeCanWorkUG on social media.
Written By Kiwumulo Charity.