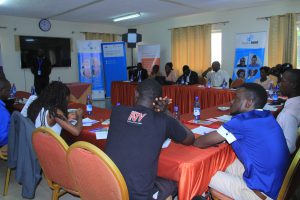 On April 22nd 2019, an investigative story on the state of sexuality education in Uganda compiled by rising investigative journalist Canary Mugume from NBS TV aired for the first time.

The story focused on how young girls in Kalangala island are becoming victims of defilement by being manipulated by 'guardians' taking advantage of their lack of information, rights and services on sexuality education. This builds on the public picture and shared light on how young people are facing challenges due to the lack of this information and services.

It (the story) became a focus of discussion on social media sparking off the call by experts and health activists on the need for providing information on sexual reproductive health for adolescents and young people.

"Too simplistic. Burying our heads in the sand. Perpetuates the moral hypocrisy that characterizes our societal norms and makes us too lazy to confront the problems realistically as we face the hard questions." quoted Dr John Mark Bwanika on Twitter.
The story had already featured key opinions from influencers in the sexual reproductive health space including government officials, the State Minister of Health, civil society, religious leaders and young people sharing their experiences on the topic.
The ubiquitous nature of the news media, in particular, makes it a powerful tool for directing attention to specific issues. Generally, Ugandans look to the news media for coverage of events and to help us understand the world around us.

Although the news media does not specifically tell us what to think, it plays an important role in identifying what issues we should think about. The more coverage a topic receives in the news, the more likely it is to be a concern of the public. Conversely, issues not mentioned by the media are likely to be ignored or to receive little attention.

"Given the media's ability to disseminate information in a broad, timely and accessible manner, it plays an important role in access to information. As agents of socialization, you can influence behavioural change & beliefs of society." Esther Nakkazi the founder of the Health Journalists Network of Uganda mentioned during the media Share101 by Reach A Hand Uganda in conjunction with the Media Challenge Initiative.

Speaking at the same media Share101, renown practitioner and lecturer Dr Bernard Tabaire emphasized how journalists need to have accurate information on whatever they report in the rise of the new media which promotes breaking the news and not ethical and right journalism.

There's a lot of sexual reproductive challenges in Uganda at the moment. For example, according to USAID's 2009 analysis report; Addressing Early Marriages in Uganda,more than half (53%) of women aged 20–49 were married before the age of 18, which is the legal age of marriage for women in Uganda.
Recent data suggests 25% of adolescent girls aged 15-19 have begun childbearing and 19% of women aged 15-19 have given birth according to the 2016 Uganda Demographic Health Survey. This means that 1 out of every four girls is affected.

Moving on, New Vision journalist Geoffery Mutegeki published an investigative report that frames the understanding of this issue. It revealed that about 40%, the number of mothers who Visit Malango Health Centre in Mayuge district are teenagers (accessible here.) It further revealed how more than 50% of the women who seek antenatal service in Butaleja Health Centre III are girls aged between 13-16 years (accessible here).

The media, therefore, plays a vital role in telling these stories to galvanize governmental and non-governmental support on issues related to reproductive health, by continually raising public awareness to a targeted audience such as policymakers, program implementers, and other key stakeholders.
Consequently, by promoting openness and public discussions, the media can help break the culture of silence and stigma associated with reproductive health issues.