SUMMARY
More than 40 years since HIV was first diagnosed, it continues to afflict communities  worldwide. Particularly in Sub-Saharan Africa, women and young girls are disproportionately afflicted. Women's ability to negotiate condom use and protect themselves from HIV is often hampered by financial inequities and intimate partner violence. Inadequate access to sexual health services, including HIV testing and treatment is closely linked to gender inequality in education and social autonomy among women. Despite worldwide agreements to minimize the effects of gender inequality, there is a need to considerably scale up efforts as social inequalities and violence against women & girls continue to exist around the world.
INTRODUCTION & BACKGROUND
HIV is a virus that weakens the immune system by destroying cells that fight sickness and infection, mainly CD4 cells, and is transmitted through certain body fluids (often called T cells). HIV lowers the number of CD4 cells in the body if left untreated, making it harder for the immune system to combat infections and other disorders. AIDS, or acquired immunodeficiency syndrome, is a disease caused by HIV.
AIDS (Acquired immunoDeficiency Syndrome) is caused by the HIV virus, which is one of the world's most critical health and development problems. Since the beginning of the epidemic, over 38 million individuals have been diagnosed with HIV, and tens of millions have died from AIDS-related causes. Many people living with HIV or at risk of contracting the virus lack access to HIV prevention, treatment, and care, and there is currently no cure.
Major global efforts have been conducted in recent decades to combat the disease, and despite hurdles, significant progress has been made in combating HIV. The global community committed to seek to end the AIDS epidemic by 2030 under Sustainable Development Goal 3. While progress has been achieved, it has been uneven, and the interim "90-90-90" goals have been missed. In June 2021, the United Nations will hold a high-level summit to assess progress toward the 2030 goals.
The United States government (US) is the world's single greatest donor to worldwide HIV activities, notably the Global Fund to Fight AIDS, Tuberculosis, and Malaria (PEPFAR) (Global Fund). As COVID-19 spreads over the world, it has already had a negative impact on HIV/AIDS activities, causing disruptions in critical health services such as testing, treatment, and preventive programs. AIDS-related deaths are the top cause of death in women aged 15 to 49 years around the world. In 2017, women (aged 15 and above) accounted for 59 percent of new adult HIV infections in Sub-Saharan Africa, while young women (aged 15–24 years) are twice as likely as young men to become infected worldwide.
Women and girls in Sub-Saharan Africa continue to be at a higher risk of HIV infection, according to UNAIDS. Despite accounting for only 10% of the population, adolescent girls and young women account for 25% of all new HIV infections. Young women between the ages of 15 and 24 are twice as likely as men to have HIV. In 2020, around 4200 adolescent girls and young women aged 15–24 years will be infected with HIV each week.
This startling statistic is centred on gender inequity and gender-based violence. Women and girls are deprived of their right to education, health, and economic opportunities as a result of gender inequalities. This raises their chances of contracting HIV. It is critical to defend girls and women's rights so that they can avoid contracting HIV, overcome stigma, and obtain HIV testing, treatment, care, and support, as well as sexual and reproductive health services.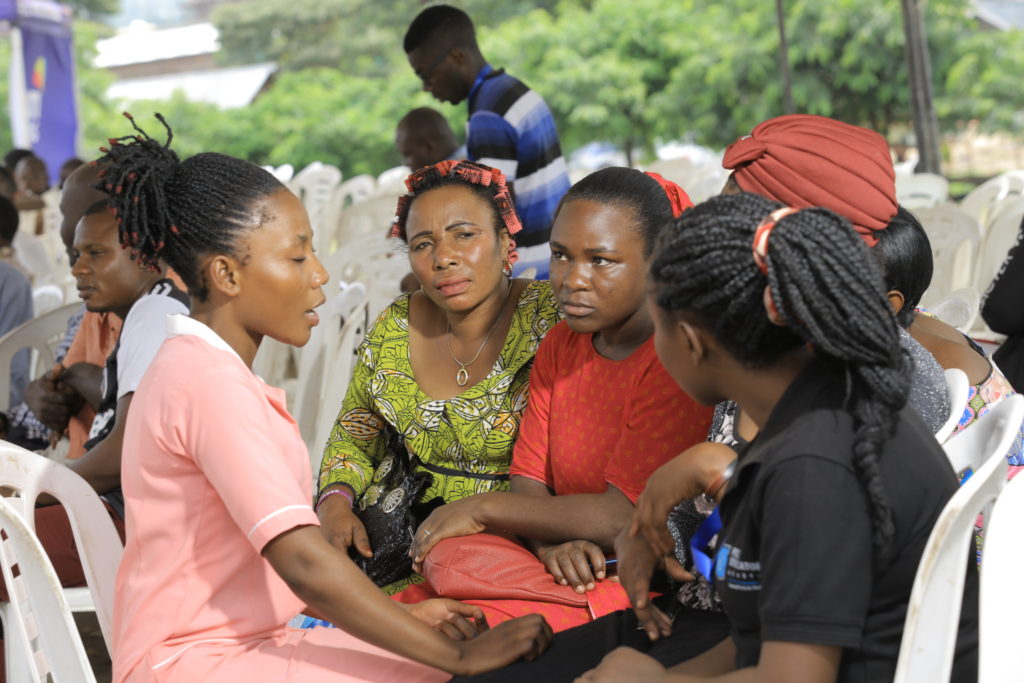 CONTEXT
While most people think of gender inequality as simply a lack of access to services and information, gender inequality encompasses much more than discussions about sexual health and resources. It also includes how, as a result of a lack of information and access to care, women are disproportionately at risk for sexually transmitted illnesses, which is exacerbated by the gender gap. When it comes to issues like HIV/AIDS transmission, we're conditioned to think of men as being more at risk and more likely to catch the disease. Women, on the other hand, are not only more vulnerable, but also more likely to be infected with HIV/AIDS.
Gender disparities, such as gender-based and intimate partner violence, increase women's and girls' physiological sensitivity to HIV and prevent them from receiving treatment. HIV is not only caused by, but also perpetuates, gender discrimination, making women more exposed to its effects. Because of the gender power imbalance, many young women are unable to make decisions about their own life.
According to recent statistics in Uganda, Kalangala has 18% prevalence, Fort Portal has a 14.6 % prevalence, some districts in the north have an 11-12 % prevalence, and some areas have a 0.2 % prevalence. This demonstrates that the COVID19 pandemic has worsened and highlighted these obvious inequities in our way of life. These have proven to be impediments to HIV prevention, testing, and treatment. Inequalities such as poverty, for example, have increased people's sensitivity to HIV and harmed their ability to control its effects. Transactional sex and sexual exploitation are on the rise as a result of the COVID19 epidemic, which has resulted in widespread loss of livelihoods and fewer economic prospects. People are at a higher risk of developing HIV as a result of these factors unless they have access to HIV prevention information and the means to protect themselves.
HIV/AIDS and gender inequality are inextricably linked.
To put it another way, gender inequality causes women, young women and adolescent girls to get HIV/AIDS at a much higher rate than men. Why is it the case? Not only because of a lack of sexual health information, but also because of their social positions, women are frequently silenced in discussions about contraception and family planning. Women are also by far the most vulnerable victims of intimate partner violence, which has a significant role in placing women in vulnerable positions that force them to adopt habits that make it simple for them to contract HIV/AIDS.
It takes time and varies from person to person to go from being HIV positive to developing the many symptoms associated with AIDS. This means that women are more likely to be asymptomatic with HIV, leading many women to believe they are not HIV positive, putting them at danger of passing it on to their children. Not only that, but there are a lot of them.
Gender inequality not only affects women, young women and adolescent girls but it also leads to HIV transmission from mother to child. Without realizing it, vulnerable young mothers pass HIV on to their children, allowing the disease to spread among vulnerable populations of women and children. 'Knowledge is power,', and it is a fact that many women are denied access to information.
In what ways does gender inequality make women more vulnerable to HIV?
Because of their unequal cultural, social, and economic status in society, HIV affects women and teenage girls disproportionately. This means that in order to halt the global HIV epidemic and achieve other, broader development goals, gender inequality must be addressed.
Discriminatory societal and cultural norms are often translated into legislation that limit the autonomy of young women, as seen by the fact that 75% of women aged 15 to 19 have no final say in their own health care decisions. In Uganda, for example, law makers have traditionally criminalized Comprehensive Sexuality Education for young people because they believe it is improper for young people. These lawmakers are concerned that CSE's values, practices, and behaviors are incompatible with Ugandan beliefs, customs, and aspirations. This is harmful to young people because if open discussions with young people, particularly young girls, are not held, these young people will not be able to obtain the necessary information to make informed decisions about their reproductive health.
Similarly, Fear of intimate partner violence has been shown to be a significant barrier to HIV testing and counseling, as well as disclosure of HIV-positive status, treatment uptake, and adherence, particularly among pregnant women receiving antiretroviral therapy (ART) as part of services to prevent mother-to-child transmission.
Intimate partner violence, inequitable legislation, and damaging traditional behaviors all contribute to men and women having unequal power dynamics. Women's choices, opportunities, and access to information, health and social services, education, and work are all hampered by these dynamics. In 29 countries, for example, accessing sexual and reproductive health (SRH) services requires the consent of a spouse or partner. Between 10% and 75% of women between the ages of 15 and 19 do not have a say in health decisions. Women's vulnerability to HIV is exacerbated by stigma and prejudice, which undermines the response to the epidemic. Women in important populations, in particular, suffer various and unique obstacles and hurdles, including violence and human rights violations in health care settings and from military personnel.
Poverty is a major factor that promotes HIV risk, which is exacerbated by gender disparities. Poor women are frequently financially reliant on men. Early marriage may be influenced by the need for financial support, and existing gender disparities may make it harder for young women to demand safer sexual behaviors. Poor women may have no choice but to engage in risky activities such as transactional and intergenerational sex, early marriage, and intimate relationships that expose them to violence and abuse.
Poverty might also encourage young women to enter into relationships with older men in exchange for money or presents. Sexual partnerships between young women and older men are prevalent. Young women are more likely to be exposed to risky sexual behaviors, low condom use, and an increased risk of sexually transmitted illnesses as a result of this. Young women and adolescent girls living in poverty are also more vulnerable to human trafficking and sexual exploitation. Poverty also raises the chances of child marriages When compared to females from the richest countries, girls from the poorest countries are more likely to be married as children.
Interventions by Reach A Hand Uganda (RAHU)
Since 2014, the iKnowKati HIV/AIDS awareness and prevention program has been implemented by the Reach A Hand Uganda (RAHU) and the Global Livingston Institute to provide channels for youth to obtain HIV preventive information, testing, counseling, and AntiRetroviral Therapy (ART) services. The #iKnowKati campaign, which loosely translates to "I know now" in Luganda dialect, strives to normalize HIV and sexual reproductive health dialogues. It aims to provide accurate information on HIV/AIDS prevention, positive living and management, and treatment and care to youth aged 16 to 35 years (both in and out of school).
Youth-friendly HIV/AIDS awareness/prevention messages, community youth engagement drives and outreaches, door-to-door mobilization, and musical performances are among the primary activities of the iKnow campaign. These musical performances are used as a mobilization technique to get people to come out and get integrated HIV and SRH information and services.
"Ending the HIV epidemic: Confronting inequalities" theme of the 2021 iKnow HIV/AIDS Awareness and Prevention Campaign highlighted the importance of ending inequalities in order to end the HIV epidemic by 2030. The theme of this 2021's campaign was confronting and eradicating the numerous inequalities that continue to aid in the spread of the HIV/AIDS pandemic. People who are left behind due to their gender, age, or socioeconomic situation were given priority in the campaign. It enabled discussions about addressing disparities such as gender discrimination as a means of reducing the HIV epidemic's spread.
BEST PRACTICES GOING FORWARD
In order to reduce HIV/AIDS transmission, HIV prevention programs and contraception availability are critical, but strengthening women's role in family planning and sexual health education is also critical. Women must be empowered to make their own decisions by learning about contraception and HIV, as well as taking charge of their own sexual health. We can boost women's confidence and role in decision-making by uplifting them, and maybe reduce the high prevalence of HIV/AIDS in women that we witness.
The healthcare system needs to be improved as well. Despite the fact that Uganda has excellent vertical health programs such as HIV/AIDS, TB, and malaria control, pandemics quickly expose a lack of horizontal integration and a brittle healthcare infrastructure. COVID-19 should act as a wake-up call to Uganda's government, donors, and policymakers, pushing them to engage in improving the country's healthcare system so that critical HIV care can continue despite the pandemic's heightened hurdles. This should include more training and retention of nursing, medical, and auxiliary healthcare workers, as well as ensuring adequate pharmaceutical and diagnostic supplies.
Intimate-partner violence laws, notably the lack of criminalization of marital rape, need to be strengthened. To guarantee that action is effective, evidence-based approaches to decreasing gender-based violence are essential. The values-based approach should be combined with the evidence-based approach so that when young people are told to abstain, they are also given the appropriate information on how to protect themselves. The reality is that young people have sex, and due to many societal and cultural norms, women, young women, and adolescents are the ones who are most affected, which is why HIV/AIDS prevalence is so high in that group.
A woman of mixed race appears to be the third person ever to be cured of H.I.V., thanks to a new umbilical cord blood transplant method that allows for the cure of more people of diverse racial backgrounds than previously possible. Could this indicate that there is hope for reducing HIV/AIDS among women, who are the most affected and infected with H.I.V. since it is thought to progress differently in women than in men, accounting for more than half of all H.I.V. cases worldwide?
REFERENCES
[1] https://www.avert.org/professionals/social-issues/gender-inequality
[2] AIDS is the last and most severe stage of HIV infection, during which the immune system is so weak that people with AIDS acquire an increasing amount of severe illnesses. CDC HIV Website, https://www.cdc.gov/hiv/basics/whatishiv.html.
[3] https://www.kff.org/global-health-policy/fact-sheet/the-global-hivaids-epidemic/
[4] Ibid
[5] https://www.thelancet.com/action/showPdf?pii=S2352-3018%2819%2930198-5
[6] https://www.unaids.org/sites/default/files/PCBSS_Global_AIDS_Strategy_2021–2026_EN.pdf
[7] WHO (2017) 'Consolidated guideline on sexual and reproductive health and rights of women living with HIV'[pdf
[8] UNAIDS (2014) 'The Gap Report'[pdf]
[9] UNAIDS (2017) 'When women lead change happens: Women advancing the end of AIDS'[pdf]
[10] UNAIDS (2017) 'When women lead change happens: Women advancing the end of AIDS'[pdf]
[11] UN Women (2015) 'Championing Gender Equality in the HIV Response: The experiences of five programme countries'
[12] UNAIDS (2014) 'The Gap Report'[pdf]
[13] https://www.avert.org/professionals/social-issues/gender-inequality
[14] Mafigiri R, Matovu JK, Makumbi FE, Ndyanabo A, Nabukalu D, Sakor M et al. HIV prevalence and uptake of HIV/AIDS services among youths (15-24 years) in fishing and neighboring communities of Kasensero, Rakai District, south western Uganda. BMC public health. 2017;17(1):251