The lack of awareness about Spinal Cord injury may result in less inclusive communities and this can lead to depression and psychosocial issues like anxiety, and low self-esteem for persons with spinal cord injuries. According to the World health organization, every year, around the world, between 250 000 and 500 000 people suffer a spinal cord injury (SCI) and the majority of spinal cord injuries are due to preventable causes such as road traffic crashes and fall, or violence.
Reach a Hand Uganda in partnership with Spinal Injuries Support Society, Light for the World, OJ Disability Foundation, Light for the World, and Wheel Chair Foundation flagged off the #change4SCI "Spinal Cord Injury Campaign on 10th May 2022 with the purpose of creating awareness and supporting persons with spinal cord injuries have better lives.
In his opening remarks, James K Tumusiime- Country director at Reach A Hand Uganda noted that through interventions like the peer educators academy, inclusive advocacy, music, and art, RAHU has been able to empower young persons with disabilities.
It is essential for business entities and society at large to understand the benefits of disability inclusion. Over the years, through initiatives like the Make 12.4% work project that is supported by Light for the world, Reach a Hand Uganda has built an inclusive culture that has created awareness about the challenges that persons with disabilities go through as well as generating opportunities for them.
Some of the challenges that persons with disabilities face include accessibility and stigmatization and while giving her keynote, Laura Kanushu – Woman MP representing persons with disabilities stated that the media should not only be part of the stakeholders that advocate for inclusion but should also learn on how to relay information on issues concerning disability."We have laws in place concerning accessibility for persons with disability and we are committed to seeing that these laws are implemented." – she added.
" I faced countless challenges, the inaccessible environments, inaccessible information, unequal access to opportunities, stereotypes, and the insurmountable exclusion that persons with disabilities continue to face in Uganda. What society needs to know is that persons with spinal cord injuries need to be treated with care, love, and respect. They need to be supported and given equal opportunities."- Denis Ouma Chair Person Spinal Injuries Support Society
"Spinal Cord Injury is one of the most devastating experiences one can ever go through. Though many of the consequences associated with spinal cord injury do not result from the condition itself, but from inadequate health care, rehabilitation services, and barriers from the policy environment. Having the Spinal Injuries Support Society and OJ Disability Foundation reach out to us to partner on this campaign is a testament to the programming and advocacy work RAHU has done on Disability inclusion so far and we do not take it for granted. RAHU is being challenged to do more because to whom much is given much is expected and the challenge is welcome."- Humphrey Nabimanya CEO & Founder Reach a Hand Uganda.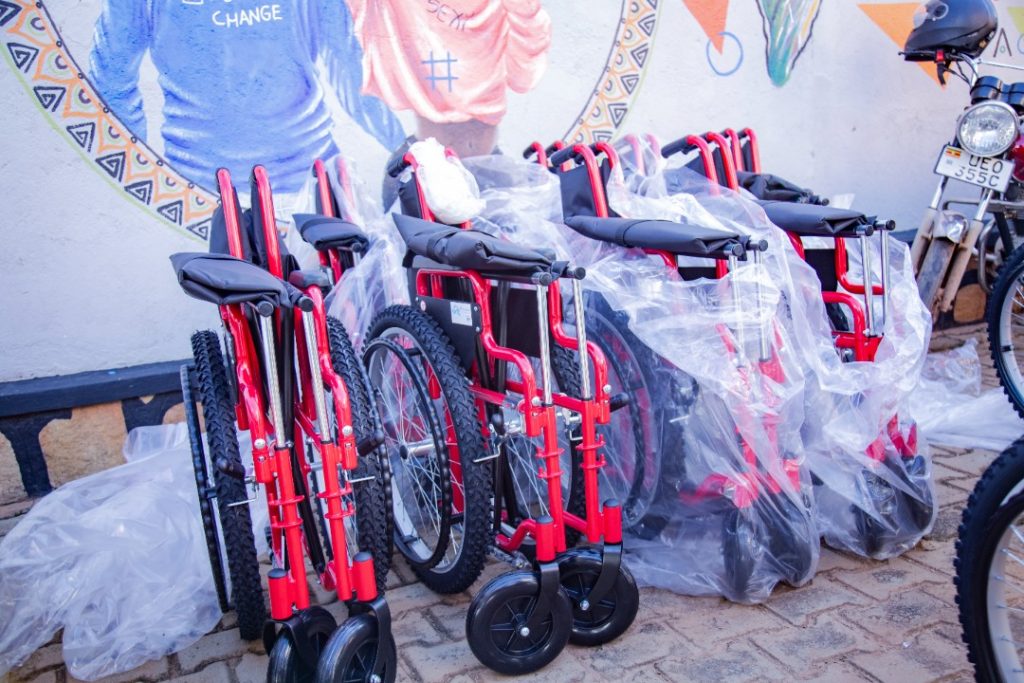 Through this campaign, over 250 wheelchairs were distributed to the most vulnerable persons that have been mapped and identified as beneficiaries.
In order for us to see a more inclusive society, there should be deliberate progress to address the root of the lack of awareness, we should focus on the specifics, educate people about inclusivity, and get rid of persisting stereotypes towards persons with disabilities.
Written By Kiwumulo Charity.