Valentine's day in Uganda is largely a celebration of love where family, couples and partners use different gestures to express their affection for their loved ones. Often times, especially among couples and partners in sexual relationships, the different gestures translate into sexual activity.
An article published on IRIN Africa, a humanitarian website, states that as of 2012, only 36.2 percent of women and 52.9 percent of men between 20 and 24 used a condom during their last sexual intercourse in the past 12 months, according to the National AIDS Indicator Survey.
Globally, 15% of all women living with HIV aged 15 years and older are young women 15–24 years old. Of these, 80% live in sub-Saharan Africa. In this region, women acquire HIV infection at least 5–7 years earlier than men (UNAIDS Gap report, 2014)
Unsafe Sexual activity is a contributing factor to the above grueling factors, and the excitement that comes with celebrating Valentine's day can lead to engaging in risky sexual activity.
The 2013 Uganda HIV and AIDS Country Progress Report by Uganda AIDS Commission states that people living in urban areas are more likely to be HIV positive than those in rural areas with 8.7% of these being positive compared to 7.0% of their rural counterparts. Furthermore, in the age bracket of 25-29 years, only 38.6% have comprehensive knowledge about HIV/AIDS whereas only 38.9% have the same comprehensive knowledge in the 30-39 year old bracket.
Therefore, the above figures shows that even though Uganda has registered good results in fighting HIV/AIDS, a lot needs to be done in curbing the disease which even means, finding new creative ways to disseminate information.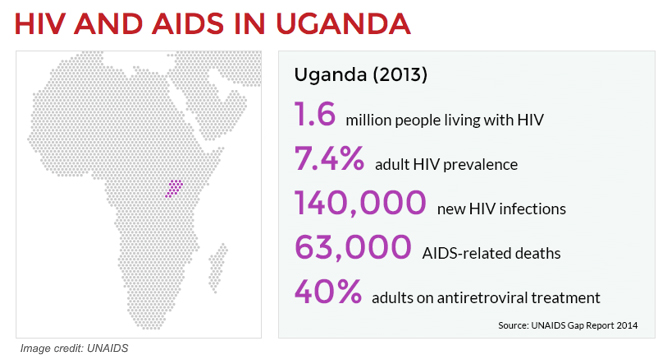 Enter Bwaise
Bwaise is a densely populated slum area within Kampala with majority of the people being youth with minimal sources of income and are therefore pushed into engaging in risky activity that can generate income for them such as sex work, gambling, drug and substance distribution and abuse. These activities can accelerate the spread of HIV infections, unintended pregnancies which may result into unsafe abortions and thereby increase maternal and infant mortality rates .
Lights. Camera. Action. #LoveMukibanda
When urban youth think of Valentine's Day, what comes to their mind are expensive dinners and movies. For the love birds in Bwaise, a translated movie in a nearby kibanda (video hall) works just fine. One special thing about a kibanda, is that it is a meeting point for the youth after they are done with the day's work. These include vendors, motorcycle (boda boda) riders, taxi drivers, students, among others.
Thus, instead of paying a fee to watch a movie with loved ones on this special day in the nearby kibanda, Reach A Hand, Uganda (RAHU) together with partners, will use this opportunity to raise awareness about HIV/AIDS and contraception use. On 14th February, 2016, mobilization of the community to come to Bwaise (ku Jambula) and watch two episodes of MTV Shuga at no fee, with a live Video Jockey (VJ) experience, will be done.
VJ Junior will translate the Series, which portray major SRHR themes such as HIV/AIDS, relationships, peer influence, love and sex, into the Local Language (Luganda) while hinting on the key messages being portrayed. He will afterwards have a question and answer session where he asks the viewers what they have gained from this. Questions that arise from the audience will be answered by an expert. Free HIV testing and Counseling and condom sensitization and distribution will be carried out for an estimated 1000 people as the movie will be running.
Follow the conversation online using the hashtag #LoveMuKibanda