Timothy Okwaput, one of our peer educators with a hearing impairment, joined the peer educator's academy in 2018 and shares that it was where he not only gained new knowledge, information and friends but was also where he learnt more about his worth and gained self esteem. Prior to the academy, Timothy shied away from anything public and preferred to sit at the back. Today, Timothy, just like his fellow young persons with disabilities (PWDs) that have been mentored, is an outstanding advocate, with a high self esteem and a strong affirmation for his worth.
"People look down on us persons with disabilities and it is hurtful. But now, even though I meet people that do this, I do not feel as bad as I used to because I now have a stronger self esteem from the academy." Timothy shares.
People with disabilities (PWDs) live within us. While on some occasions the disability is physical and thus easily identifiable, it may not be easily recognized on other occasions unless you tried to personally engage with the person. It is however sad to notice that PWDs still are stigmatized and not included in social, economic, political, and health sector programming.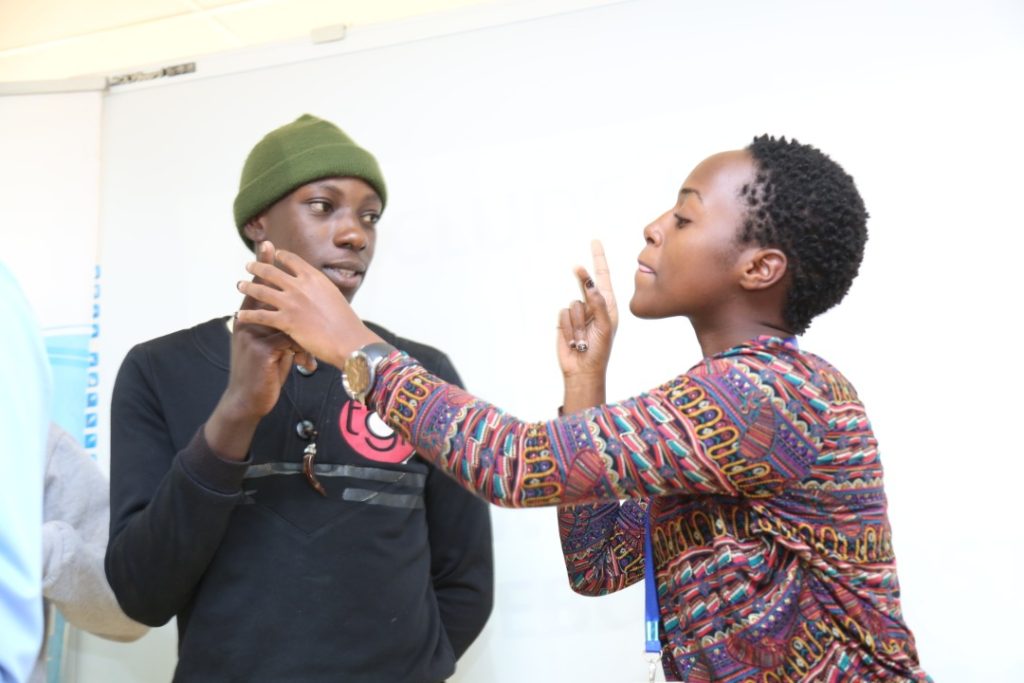 Simple sign language lessons at the Peer Educator's Academy. 
Therefore, our questions to you today  is; Have you  made an effort towards being inclusive? Have you made an effort to consider PWD's special needs when it comes to accessing Sexual Reproductive Health and Rights (SRHR) information and services in different places?
This is why we as Reach A Hand Uganda, together with Light for the World and National Union of Disabled Persons of Uganda (NUDIPU), supported by Community Fund, are implementing the Make 12.4% Work Initiative.
What does 'Make 12.4% work' mean? In Uganda, the percentage of PWDs is currently 12.4 according to the 2014 population census report. This means that of the entire population of Uganda (currently at 44 million people), more than 5 million of them have a certain form of disability and these are who we target through this project.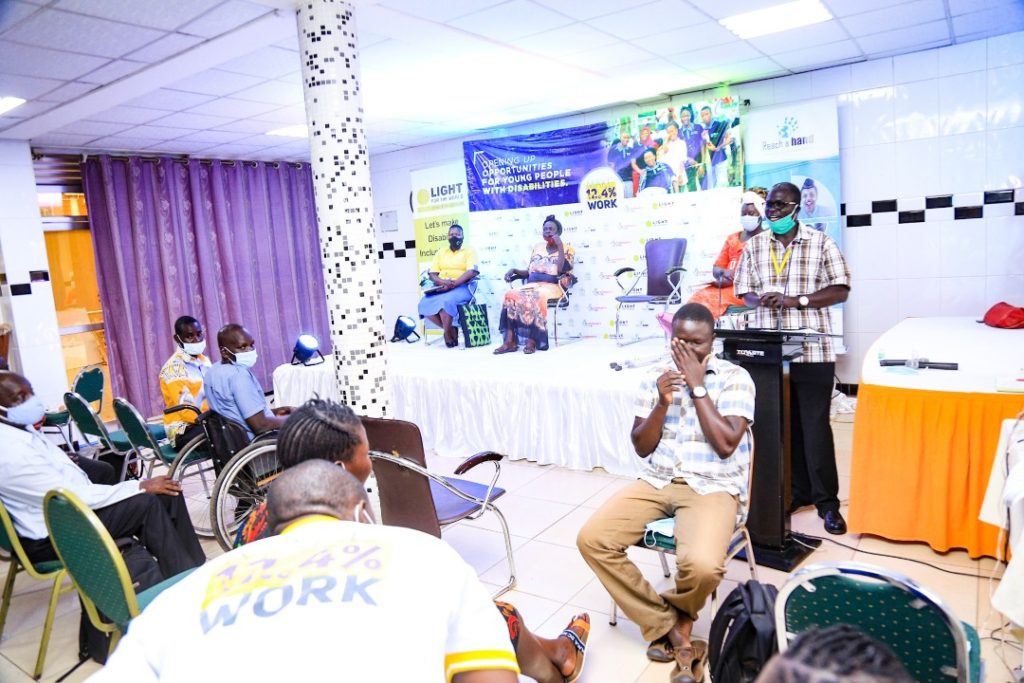 PWDs share 101 in Gulu last year.
How do we make it work?
As Reach A Hand Uganda, we are keen on ensuring that all our programming is inclusive and favorable of people with disabilities, especially the young people. Together with Light for the World and NUDIPU, we have run the Make 12.4% work project since 2018, with the main aim of creating employment opportunities and livelihood programs for PWDs.
With special programming included in all our activities to provide for and suit PWDs, we are able to equally involve them in the Peer Educators Academy, peer learning sessions in schools and in the field, National policy discussions, media engagements, among many other engagements.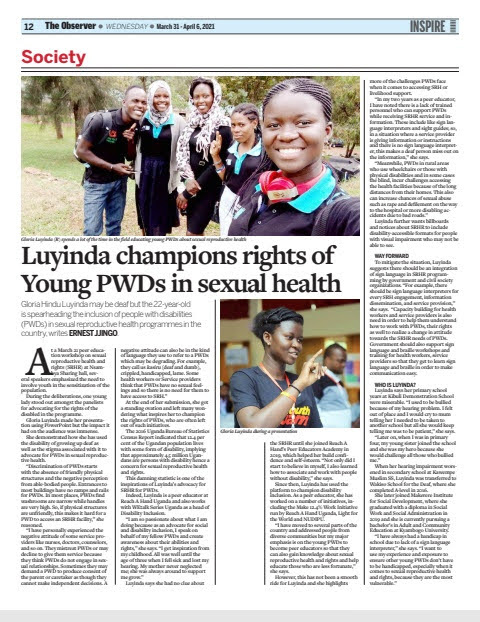 One of our peer educators, Gloria Hindu Luyinda, has her advocacy initiatives documented in the Observer newspaper. 
Timothy highlights more of the challenges PWDs face. He shares that more often than not, employers are unwilling to look beyond their disability to consider their abilities or qualifications.
"No matter how qualified you are for the job, many organizations are not willing to give you a chance. For those that have taken a chance on us, they have noticed that we even have the ability to out-perfrom those without disability." Timothy adds.
Anneke Maarse, the Country Director Light for the World Uganda, affirms the fact that  when given the opportunity, young people with disabilities can equally harness the same opportunities and make the best of them.
"When we started out on this journey to uplifting PWDs, we aimed at making an impact and yes, we are happy to affirm that we have." Anneke says.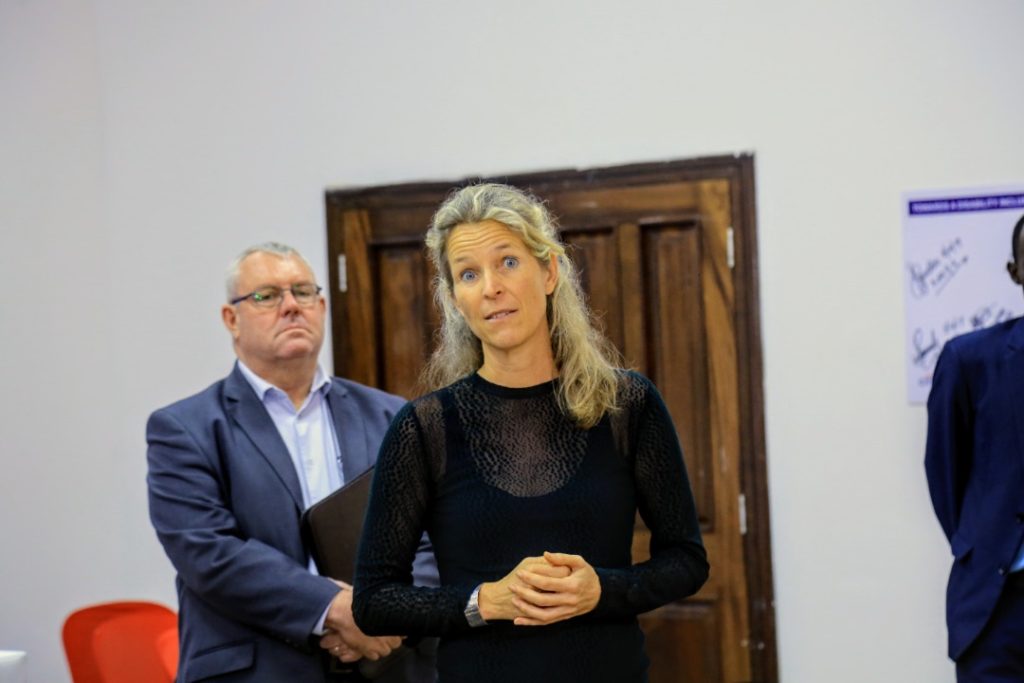 Anneke Marse addressing people at a PWDs conference.
"One could think that the impact is most felt among those we uplift but for me, I feel impacted on a greater level. Their smiles give me joy and to watch a person look beyond their disability to their many abilities." Anneke adds.
Anneke passionately shares the story of one of her mentees, Nasser, who has managed to set up a sign language cafe in Nakasero, known as 'Endiro Sign Language Cafe' which is part of the Endiro franchise. Through this, Nasser hopes to create awareness on sign language and create jobs for those with hearing impairments.
What do we want the public to remember?
Just as any other young person out there, PWDs too are talented and full of unique potential. This is potential that can be harnessed for the greater good of the community within which they live. The public should equally remember that PWDs' disabilities are no inabilities but unique abilities. Let's tap the untapped potential by fully including young persons with disabilities.